By
cwensk
- Thu May 07, 2015 6:36 pm
- Thu May 07, 2015 6:36 pm
#333570
Sorry, haven't been on here in a while. I got this gobbler on the 25th of April, right before I went in for surgery on my right knee(3rd)
Pretty uneventful morning, no birds gobbling. Had 2 hens come by the blind, both bearded but I passed. Then had 2 jakes stormed by, no shots.I was getting fidgety so I popped out of blind and took a step into high-line clearing. 90 yds away was a gobbler in strut. Thankfully he had his butt to me so I scurried back into the blind, just in time to see a hen that was with him, coming along the high-line. I clucked a couple times and in she came. He was strutting back and forth across the high-line opening and to make a long story short, got into range and I shot him. He was missing a spur on 1 side, the other was almost an inch.
Double beards -10 1/4", 4 and 1/2" First double bearded bird for me. He never made a peep the whole time!
Good way to end my season, its still in, but I'm laid up for awhile.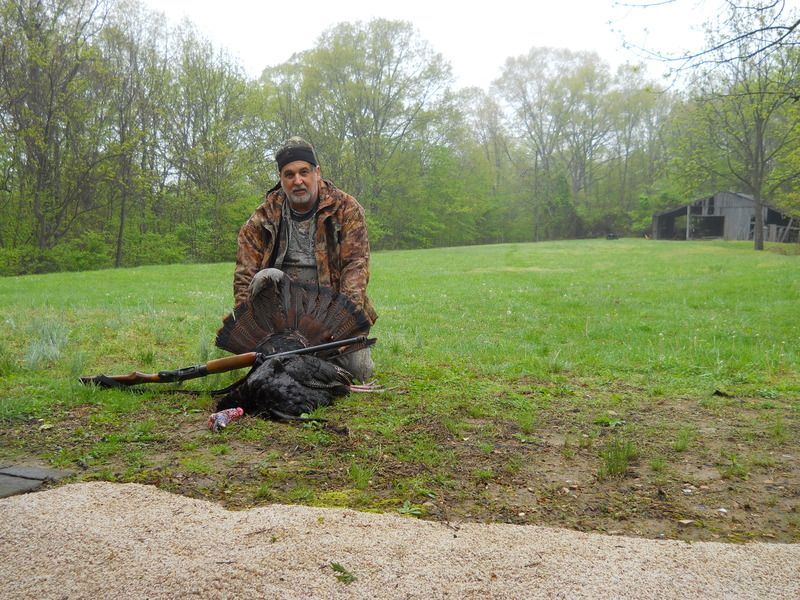 We need to find God, and he cannot be found in noise and restlessness. God is the friend of silence. See how nature - trees, flowers, grass- grows in silence; see the stars, the moon and the sun, how they move in silence... We need silence to be able to touch souls.
Mother Teresa (She must have been a bowhunter)