Man I can't believe how we all think the same... marked fuel... wait to catch them (the red neck way)
... different cams... You are hitting it on the nail...
In my first post I made an error the fuel tank is not the red round type unit. Figured this out from a diffrent video showing one of them standing on top of the tank. Thus it must be the flat style.
stick33 wrote:
Pretty ballsy. I'd definitely switch to a low-glow or no-glow camera that takes high quality video. How do you know they saw the IR flash? If they did, do you think they'll be back? I hope your cameras land those crooks where they belong!
The IR LED's are kind of bright for such a remote location but the police sure did like how they looked.
But they won't catch the bad guy.
wolvenkinde wrote:
Only thing I notice other than what you stated was the wheel rims look to be larger diameter than normal stock...kind of foolish in snow as the they will pack up with ice and cause major vibration...I don't know if they are 20inch but they sure look larger than my 17in rims. Also maybe a 4 door...thought I saw a handle back there - so not just extended cab...fancy truck and can't be too many of those running around up there.
You are right rims are larger and are chrome we think. The tires do look larger than stock. Plus you are correct after looking the clip over about 6 times your right crew cab. I also could see the Ford symbol in the grill. But the not many up here there are tons of new trucks all dolled up fancy. A few thousand men have poured in to the are in the winter from everywhere. There are camps set up in the middle of nowhere capable of housing 800 men at one location. There a lots of large camps up here.
mrtrailcam1 wrote:
You need to look at the spypoint website,they have a security cams that red lic plates even with the vehicles lights on.

On a second note Here on the farms we get people stealing gas from time to time they brake in the barn and steal 5 gallon gas cans, so after a string of this going on for a while we filled a couple of cans
50/50 mix of gas and water and well end of problem. good luck
Will have to check out the camera... The fuel is need to run the generator or we would mix in some chemicals to fix there wagons!!!
RR_Security wrote:
mlowe wrote:
I hear ya. It's been a year
or two
since some of the thefts I caught on cameras, and nobody's been prosecuted or even charged yet.
Has your company given any thought to putting some dye in the fuel? A visible dye might be a deterrent. I think the covert type requires mixing suspected stolen (recovered) fuel with a reagent to produce the color change, but that would help prove where Mr. Thief's latest fill-up came from.
Apparently it's gotten pretty bad in the UK, too. As the guy said in the TV interview on one page of this site, having a quantity of fuel stolen can have a pretty bad effect on a trucking company's profits. <
http://www.dieseldye.com/index.asp
>
I also ran across this: <
http://www.universalboot.com/underground-fuel-tank-lock
>. That's big buck$ for a lock, but if someone is making off with thousands of dollars worth of fuel, the lock seems like cheap insurance.
Can you put a cam aimed at the spot where they backed in, to catch the rear plate? Maybe a "black flash" cam in a steel security case, disguised as an electrical box or something on that building behind the LP tank?
We are running dyed fuel but once its in the tank you can't tell what every one has..... As for the lock that looks like a good idea will pass this on to the boss.
NantucketShedHunter wrote:
Can you or somebody you hire sit there hidden and wait for them? I know it's cold and boring but it would be worth it to catch them in the act.
We wish we could sit there and get them but they may only come once a week or two???? We don't know.
stick33 wrote:
Yeah, if you had an inclination what day they'd show up! If it were to me, I'd let the cams do the work!
hookedoncameras wrote:
If they drive in the same way I would set up another camera that would catch the back of the truck on the building you see in the background. They won't see it as they pass by from the rear. maybe it will record a licence plate.
If they saw the other camera I would leave it as a decoy.
More cameras have been set up and are set to catch a rear view leaving and a side shot when coming in.
Crosshair wrote:
The last employee to leave at the end of the day needs to roll out a tire spike strip and broom some snow over it then wait for the fun to begin and catch all of that happening on camera. Sooner or later the bandits will get bit by the snake.
I like the way you think!
Here is a different video clip...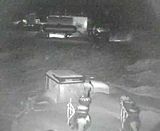 I delivered the videos to the local police and they were very impressed with what I had and gave me a few suggestions. A side shot of the truck may give away a company logo and also get a picture of the driver (they would like that the most). But the plate is a big one but the way I put out the P41 I should be able to get the driver coming in and the plate going out. Well I can hope I can.
Thanks for all the input!!! If you notice anything else please post it! I told the police I had the CG crew on the case and he officer replied "Cool"....