2trackin wrote:
So basically, the blackflash has a sensor that needs to see the camera IR when it is taking a picture. The rest of the camera IR needs to be blocked off (to make the set up blackflash), and the blackflash part (LED, I think?) needs to be pointing in the direction the camera is set.
Yep. Before UWay came out with the XtendIR, there wasn't much out there to add extra illumination to a commercial IR cam. Leaf River had/has the IR-X, but that only plugs into LR cams. The IR sensor lets the newer units work with almost any IR cam.
The next logical step was the XtendIR-B, which could make pretty much any "red blob" cam into a "black flash" cam.
Spypoint went one better with their wireless setup, which allows more flexibility with the positioning of the booster in relation to the camera. (Just don't aim the booster/extender at the cam.)
As mentioned above, the "-2" versions of the XtendIR and XtendIR-B can just plug into certain UWay cams, but only certain ones.
Quote:
This gives me plenty of ideas. Maybe I'll try to integrate everything in to a security box.
I'd go with two individual cases, one for the cam and one for the extender. That'll be easier to lug around and to put up on a tree, and keeping them separate will let you mount the flash extender above and/or to the side of the cam. With the wireless booster, you could even have two boosters, one on each side of the cam, and triggered by the same sensor. Separate cases will probably make everything easier to hide, too. You can get security cases for the cam and the XtendIR here: <
http://www.custom1enterprises.com/custom1enterprises_003.htm
> They have the XtendIR-B, too, plus power cables, straps, locks, and adjustable mounts for the cases.
Edit: Just for grins, I tried one of my Spypoint boosters in one of the Custom1 cases I bought for my XtendIRs. There is a rod across the inside of the case that keeps the bottom of the XtendIR and its associated cables/plugs up off the bottom of the case. I slid the IRB-W up to the top of the case so as not to block off too much of the bottom of its flash array.
Getting an external power cable plugged into the booster could be kind of a challenge, but I think this adaptation would work. I'd want to put some kind of short strap through the loops on the back of the IRB-W, and then just leave that in the bottom of the case, to make it easier to slide the booster out for maintenance.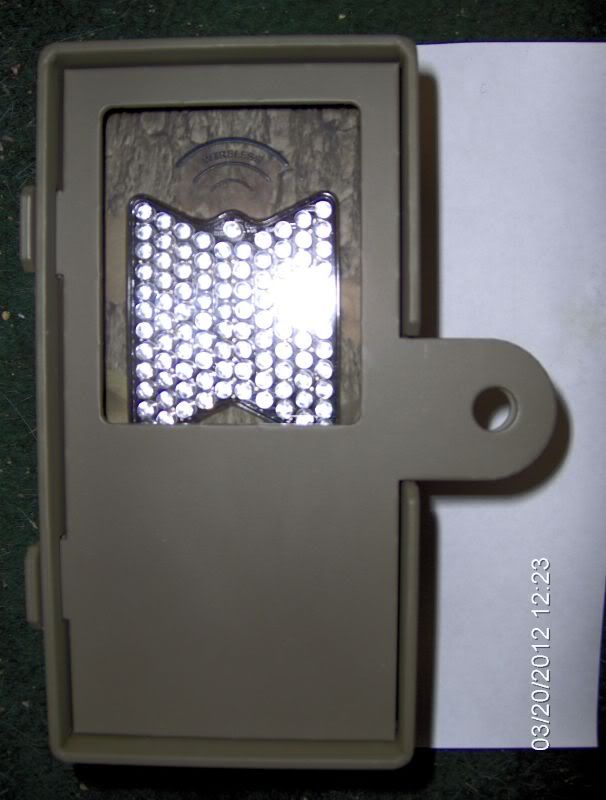 I don't have any connection to Custom1Enterprises. I'm just a satisfied customer.