First things first.. I took the soil samples and sent them in yesterday to our local Universities Ag department. I did two separate soil samples for these since I knew from cutting the field that the grasses grew thicker in lower portion than the top portion in the picture. Free soil sample for only the cost of postage one way. Not to bad and should be the very first thing you should do before ever planting a plot. At least that's what I've read. Should have the results within 2-3 weeks, right before I have to get everything done. I've procrastinated a bit, well took me a while to get the necessary equipment that I can afford.
Here's my scenario; it will be an observation/trial plot since it will not be hunted. This area is deemed "NO HUNTING" except for groundhogs and since it's not mine, I can't argue to much on that fact. It will be nice to set cameras up on though. The area is on old abandoned field that we use to mow until a few seasons ago. A look at the plot from above with the strips laid out how I will plant them in a mix I found from a member (LickCreek) on QDMA. Most of those folks are like you all. They have forgotten more than I'll probably ever know.
The strips are 11yds wide x 52yds long. So this will be a smidge over a half an acre total. The strips will consist of a Brassica mix (purple top turnips, dwarf essex rape, and groundhog forage radish) and Cereal grain mix (alice white clover, mammoth red clover, winter rye, jerry oats, 4010 forage peas, and groundhog forage radish).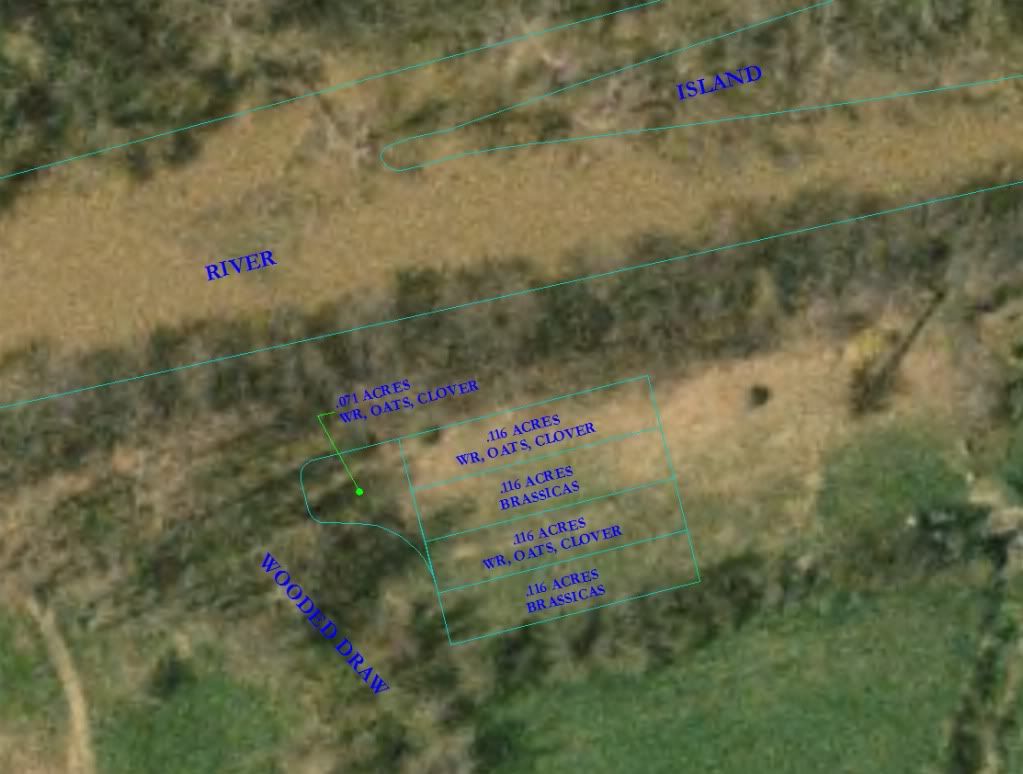 Here's what I'm thinking based on a lot of reading on QDMA and their magazine Quality Whitetails the past few years. My last free freeze date is roughly Oct. 15. So I'm planning on spraying the field with Pronto Big-N-Tuff around the first of July. Letting it go a week and a half to two weeks. Depending on lime and fertilizer requirements, around July 18th or 19th, I will spread Solu-cal lime and 10-20-20 on the entire field. I'll apply some 46-0-0 to the brassica strips also before disking it with my new groundhog max. Then come middle of August, maybe re-disc the strips(if needed) for the cereal grain mix and plant. The part of the plot on the upper left will be planted with the cereal grain combo this fall and then a white clover plot maintained from the spring of next year and on for a few years. If the brassica's don't germinate well, then I'll reapply gly if weeds are plentiful and plant the rye combo on the entire field.
I plan on using one of my trail cameras in the plot mode to document it all. Hopefully I will get to share it with you all. If I get a successful plot with this, then I'll take my one plot under my belt and move on to the farm where I can hunt them. This plot at the house will also be sort of a demonstration to my Dad who has half of the control of the farm with my Aunt. If we still own it next year, but that's a different story. I'm looking forward to the challenge and hopefully a ton of pictures. Plus knowing I'm doing the local unpressured deer herd a favor and watching them gorge themselves on some high quality food is worth it to me. Hope you all enjoy the transformation.
At least I'm hoping it is and not a complete failure. We'll see.. gotta start somewhere, right