- Fri May 10, 2013 1:07 pm
#265495
Okay, so nobody would ever mistake me for a machinist. (Nor an electrician, carpenter, plumber, auto mechanic, etc.) I drilled a hole in a Custom1 case for the LTL-5210MM that I modified for an external antenna, doing my best to line up the hole with the exact location of the SMA connector on the cam. As the saying goes, "
Close
only counts in horseshoes and hand grenades." (The pencil marks are the new ones I made after finding out where the connector
really
is when the cam is inside the case.)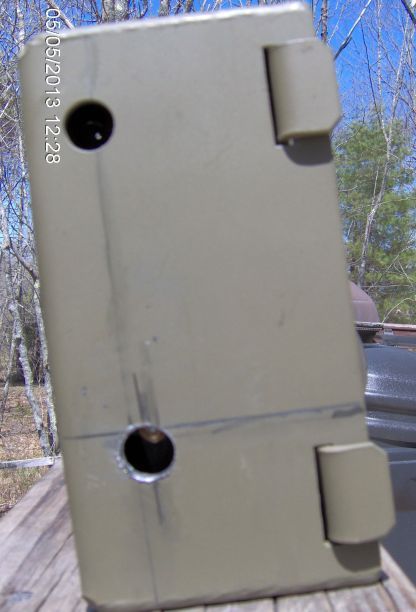 I think I'll just expand that hole a little, getting the new opening right over the SMA connector, and then maybe fill the incorrect part of it with some sealant, maybe sandwiched between a couple of pieces of UGlu camo tape.
Any suggestions for enlarging the hole? Besides the ½" hammer drill I used to drill the original hole, I have an angle grinder, but I don't think that would be precise enough. Although it might take awhile, I was thinking something like a
#941 Aluminum Oxide Grinding Stone
in a Dremel tool would work, without chewing up the case any worse than I already did. Does anybody know of a small-diameter cylindrical stone or something that would work in the drill, and maybe get the initial grinding done, finishing up with the Dremel?
Just another example of "trial and error," from my Secret Basement Laboratory.