- Mon Jan 11, 2010 7:00 pm
#110475
I'm not sure how many of you analyze your trail camera data, but I have a question for those who do and for the camera experts out there. Look at this chart: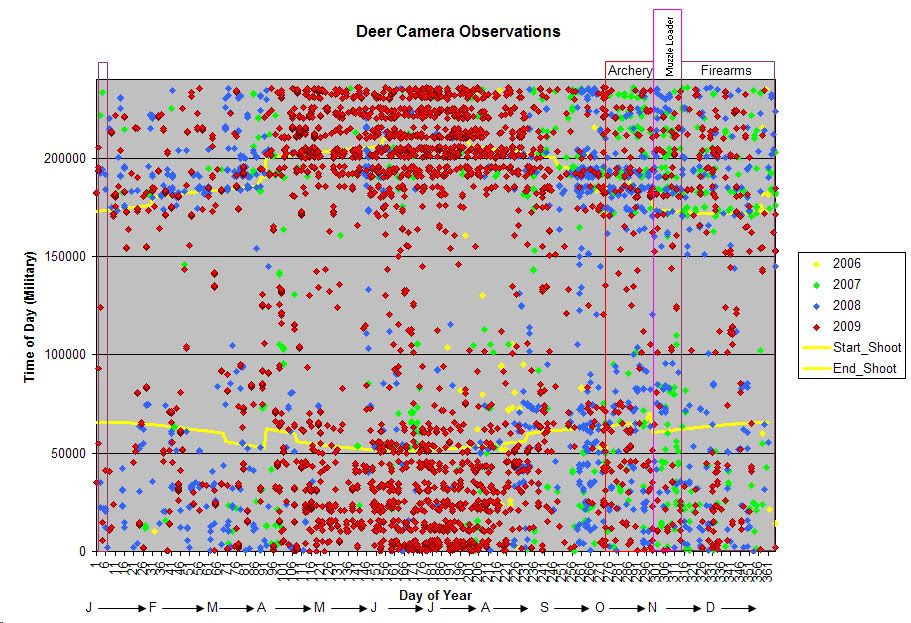 It represents several years worth of data and you can see the normal seasonal shifts one would expect. There is not enough information on this chart to do any real year-to-year analysis since the number of cameras change from year to year.
The X axis represents the day of the year and the Y axis represents a 24-hour clock on this scatter plot. The two yellow lines represent the beginning and end of shooting time at this location. Each data point represents a picture with one or more deer in it. Most all of these cameras are on fields.
OK, the thing that caught my interest is the horizontal banding. It is especially noticeable in this year's data during the summer, but I think it is there in the fall and winter as well but there is just not enough data to make it obvious. This banding looks like it is about between bands give or take a little. I can't think of any technical camera related reason for this, but maybe I'm missing something. I think I'm seeing real deer activity periodicity. I've submitted this to a couple of biologist friends for comment, but I thought I'd see what the consensus was from you guys in the mean time?
Is one hour a typical cycle time for deer activity due to digestion or something? Is there some camera related thing that could cause this banding?
Thanks,
Jack